Climbing the Savings Mountain
Updated: January 14 2021,
In this personal finance lesson, students discover how saving money can be compared to a mountain climb.
Introduction
Students are sometimes clueless when it comes to saving money. Society sure has shown them how to spend! It is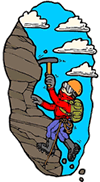 important that our students learn that saving their money not only helps them achieve financial goals, but actually earns them extra money. In this lesson they will learn that there are a variety of ways in which to save, depending on whether they have short-term or long-term goals.
Learning Objectives
Analyze ways to save money.
Create financial goals.
Define the differences between earning no interest, simple interest, and compound interest.
Predict the effect of inflation on money that has been saved.
Process
A good way to start this lesson is to review the importance of goals. Whether it is goals for academic, personal, or financial achievement, goals provide an end point. It's how to get to the end that confuses the students.

Ask students to name two items that they would like to buy. Tell them to pick one item they would like to have soon–within three months–and another item they would like to buy in five years. Ask them how much each item costs. Tell them the amount of money they will need to buy these items is part of their financial goals. Tell them that there are steps they can take to reach their financial goals. One of the most important ways to meet a financial goal is to figure out how to save money. Let them go through the lesson to find out the different ways to save money.
Urge students to use the online dictionary provided to find out what each highlighted word means.
[Note to teacher: It is important that the students click on the strategies on each page that explain more about the subject. The information pop-up pauses a long time before giving more information. Make sure the students come back to the lesson before going to the next page.The embedded pop-ups that the students will explore cover the following issues.]
Conclusion
Using a savings account or buying a CD is a wise way of saving your money. Simple interest is interest paid on the money that the saver deposits. Compound interest is interest on the money the saver deposits and on the interest that the money has earned. Inflation makes saving money at home for a long-term goal a risky choice.
Assessment
The online quiz about savings deals with the definitions of interest and inflation, as well as CDs, savings accounts, and checking accounts.
[Note to teacher: The online quiz is based on material found on the Planet Orange website. Prior to students taking the quiz additional instruction could be provided on how daily compounding yields a higher return than annual compounding.]
Do a quick check on the student's financial goals. Did the students remember to outline ways to get to their goals? Are their figures accurate?
[Note to teacher: Some actual or estimated interest rates could be made available to students who may want to do some projections using their knowledge of simple interest.]